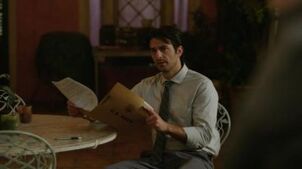 Dr. Samuel Wilkins is a psychiatrist who examined John and Jesse Neville in the NCIS: New Orleans episode, Master of Horror. He aided the NCIS New Orleans Field Office team by identifying Jesse as having " Dissociative Personality Disorder"--Dr. Jekyll and Mr. Hyde. Later, he correctly guessed that Brody was wearing a "Freudian Slip" and using a fake cigar. He told her "[Loves] a woman who pays attention to detail" and asked to be wished "luck". Afterwards, LaSalle remarked that "I think the good doc has a little Brody crush" and received the reply "Don't even start with that" from Brody.
Wilkinas appeared again in the episode The Walking Dead, asking Brody out for coffee. Towards the end, Brody finally had the courage to call him, albeit getting a voice message.
In The List, it was mentioned that Wilkins and Brody were dating and that she liked his cream Brulee.
Wilkins is portrayed by Eyal Podell.
Trivia: Podell played a guest actor in a JAG episode ("The Killer" Season 8 Episode 10). Thus he and Zoe McLellan havve acted in both JAG and NCIS: New Orleans.